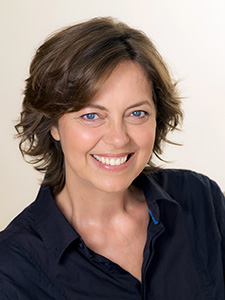 Greta Scacchi - President
She was born in Milan, Italy, though she was primarily raised in London. Around the age of 15, she moved with her family to Australia. Back in England, she trained at the prestigious Bristol Old Vic Theatre. In 1982, filmmaker Dominik Graf cast her in the thriller Das Zweite Gesicht, for which she learned to speak German. She then played in James Ivory's Heat and Dust in 1983, and in 1985 in Burke and Wills and The Coca Cola Kid, two Australian films. In 1987, she was a mesmerizing femme fatale in White Mischief. Her first American film was Presumed Innocent (1990), in which she portrayed the seductive attorney whose liaison with the married Harrison Ford precipitates her rather nasty murder. Two years later, she could be found at her seductive best opposite Tim Robbins in Robert Altman's showbiz comedy The Player. She played in two Australian films, Turtle Beach and Country Life, before going back to James Ivory's world with Jefferson in Paris (1995). Despite her success on the big screen, Greta Scacchi continued her work in television, which provided more opportunities to play classic characters. She won an Emmy Award for her performance alongside Ian McKellen and Alan Rickman in Rasputin (1996). Her film roles were generally met with praise like in Emma (1996) or The Red Violin (1998). In 2000, with the Australian film Looking for Alibrandi, she won an Australian Film Institute Award for Best Actress in a Supporting Role. She continued her international acting career with films including Festival in Cannes, Strange Crime, Fight Plan, Hidden Love, La Tenerezza. We recently saw her on French television in the series Versailles (2017).

(Photo : Mark Mawson)
---
CharlElie Couture
He was born in Nancy in eastern France in 1956. A graduate of the École Nationale Supérieure des Beaux-Arts, he is a multi-disciplinary artist who works as a photographer, painter, composer and poet. In 1981, at the age of 25, he was signed by Chris Blackwell to Island Records, going on to achieve considerable success in Europe as a musician. He recorded 25 albums, including Poèmes Rock, performed 2,000 concerts and composed soundtracks for 25 films, including Tchao Pantin. CharlElie has also produced books of photographs, such as Rêves d'hôtel (Do Not Disturb, published by Plume/Marval) and New York by CharlElie (Les Éditions du Chêne), and has published collections of his drawings, visual poems (such as Transfocus), short stories (such as Les Dragons en sucre and Le Couloir des brumes), essays and poetic reflections (such as L'inventaire paradoxal des petits plaisirs). A pioneer of the internet in the 1990s, he has given numerous lectures on art and culture, developing a theory of "creative interactivities" and clarifying definitions of the concepts of "art" and "craft". Living in New York City for the past fifteen years, CharlElie has dual French and American citizenship. He spent five years running an innovative interactive art space on 37th Street in Manhattan's West Side, which served as both a workshop and a gallery. He exhibits his work in France and the United States. With titles such as In/out-Out/in, Constructs, Photograffs, Innerportraits and Silhouettes Urbaines, his "multist" works offer a conceptual journey into the question of Existence, exploring how we situate ourselves between the conscious mind and the emotional subconscious.

(Photo : Shaan C www.shaanphoto.com)
---
Anne Depétrini

Well, where to begin? I started out by launching myself into lengthy studies (École Supérieure de Commerce in Paris, MBA in Finance in Boston), while always nursing a dream of becoming an artist. For that reason, it seemed that my simplest option was to become a journalist: my first job was with Le Revenu Français, a super-fun finance magazine… I wanted to write for women's magazines, so that wasn't exactly what I had imagined! Anyway, one day I called the switchboard at Canal+ to ask them if I could be a TV host. That's how I ended up on live television as a weather presenter in the late 1990s. Back then, Canal+ was hosted by the Lescure/de Greef duo, it was an exciting time. I spent many happy years there, moving up from the weather to the talk show Nulle Part Ailleurs, after which I was a regular on Burger Quiz, until I got my own show. That's when I went back to writing. I wrote a screenplay inspired by my own story: a romantic comedy with a French-Arab theme. Once I'd written the script, I had the opportunity to direct the film, and… Il reste du jambon? (Bacon on the Side) attracted close to 800,000 spectators. So I kept writing, sometimes for other people's films, sometimes directing other people's scripts (such as L'École est finie, 2018). Comedy has always been my key focus – getting people to laugh is my crusade. We've all got own battles to wage… In parallel, I got into acting, and I've been lucky enough to be cast in films and TV productions, including Seuls Two (2008), Des jours meilleurs (2017) and Les Affamés (2018).

(Photo : Julien Torres)
---
Marie Kremer
The daughter of an architect, Marie Kremer developed her imagination from an early age around the worlds of architecture, drawing and painting. Nevertheless, she followed a theatrical path from the age of twelve. After graduating from INSAS (the Belgian National Institute of Performing Arts) in 2003, she performed on stage in Belgium and at the same time embarked on a career in films, starring in J'ai toujours voulu être une sainte (I Always Wanted to Be a Saint), for which she won numerous awards. A short time later, she worked under the direction of Costa-Gavras in The Ax, as well as Michael Haneke in Hidden, Xavier Giannoli in The Singer, Catherine Corsini in Ambitious, Olivier Van Offstadt in Dikkenek, Stijn Coninx in Sister Smile, Pierre Duculot in Miles from Anywhere, Philippe Carrese in Cassos, Pascal Rabaté in Holidays by the Sea and, in 2018, Julien Guetta in The Trouble-Shooter. She has also featured in a number of episodes of television series, including Bxl-Usa, directed by Gaëtan Bevernaege for Canal+, Les Complices by Christian Vincent and La fille de ferme by Denis Malleval for France Télévisions. She played the role of Lucienne in Un village français and also appeared in the series Transfert and Intrusion for the Arte network. After dreaming for many years of making her own films, Marie achieved her goal in 2017, directing her first short film, Le Pérou, which is currently enjoying success on the international festival circuit.


---
Jean-Baptiste Shelmerdine

Born on 20 February, 1983, Jean-Baptiste Shelmerdine studied photography, art history and theatre. He has had a keen interest in music since his childhood, learning to play the piano and violin, and began composing his own music as a teenager. On screen, he played the hero in Mon prince charmant directed by Jean-Paul Civeyrac for the ADAMI Cannes Talent programme, followed by films such as François Ozon's Potiche in 2010 and, the same year, the TV movie Un mari de trop, in which he played alongside Alain Delon. In 2011, he co-starred with Éric and Ramzy in Halal Police d'état (Halal State Security), earning praise in the French daily Libération for his performance. He was then signed on by one of the film's stars and writers, Éric Judor, to play his assistant in the TV series Platane for Canal +. From 2012 to 2017, he played the character of Alex Volange in Nos Chers Voisins, a comedy series broadcast on TF1, which averaged 6 million viewers every evening. After this series ended, he appeared in two new series, Nu for OCS and Vernon Subutex for Canal +. He has been cast in several upcoming feature films, including one for which he co-wrote the screenplay. He also pursues his passion for music and is currently working on an album of electro-pop songs which he wrote, composed and performs.
---