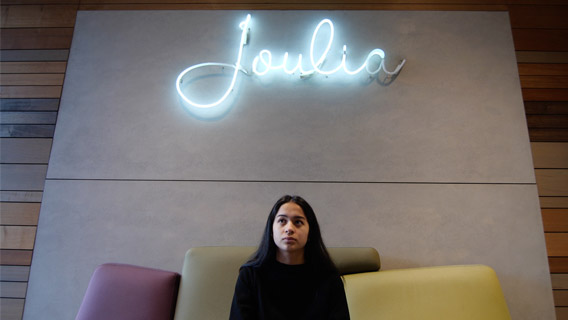 THE NEON ACROSS THE OCEAN
Australia-Philippines / 2020 / 91 min / DCP / Drama


Director : Matthew Victor Pastor

Script : Matthew Victor Pastor
Editing : Matthew Victor Pastor
Music : Corey Reason
Production : Evangeline Yin, Vladelyte Valdez
Introduced by Vladelyte Valdez

Cast : Waiyee Rivera (Mandy), Chi Nguyen (Serena), Corey Reason (Marc), Gregory Pakis (Gerald), Rachel Javier (Anna)
In the not-so-distant future, after the global crisis of 2020, Mandy, a 17-year-old Filipino Australian girl, is in her final year of high school and faces her parent's impending divorce. She navigates a world driven by a new normal of isolation and fear. Added to this she has a crush on her tutor Serena. Meanwhile, a young girl's voice is heard from the backstreets of Manila. Everything in this film is about distance. From the geographical location of the characters to the yearning of a young girl who is searching, but caught between two cultures.
Matthew Victor Pastor
Matthew Victor Pastor is a Filipino Australian filmmaker. An alumnus of the prestigious Victorian College of the Arts, his Masters' film I AM JUPITER I AM THE BIGGEST PLANET was awarded Best Director and went on to screen at over 20 international film festivals. In 2018, MELODRAMA / RANDOM / MELBOURNE! won Best Original Score at the 2018 Sinag Maynila Film Festival and was selected to have its Australian premiere at the 2018 Adelaide Film Festival. It was also nominated for the 67th edition of the FAMAS Award (Filipino Academy of Movie Arts and Sciences Award) in the music category. In November 2018, MAGANDA! PINOY BOY VS MILK MAN a hybrid-experimental exploitation-art feature film he directed and starred in had its premiere at Monster Fest Australia's leading genre film festival. In 2019 the Darwin International Film Festival premiered his short documentary BETWEEN WORLDS. Following this Oz Asia Festival in Adelaide premiered REPENT OR PERISH an experimental hybrid musical film. Screen Australia, Film Victoria, and AFTRS have funded his new short film FUN TIMES. In 2020 the short premiered at Australia's academy qualifying St Kilda Film Festival. Set for a world premiere at the 44th São Paulo International Film Festival in October 2020, is the first in his '2020 trilogy' of feature films THE NEON ACROSS THE OCEAN (91 mins). He is currently in post-production on A PENCIL TO THE JUGULAR set for a 2021 release.
---