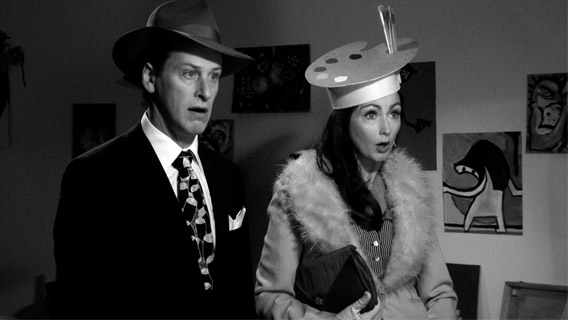 THE BIG KITTY
Australia / 2019 / 69 min / DCP / Comedy


Directors : Tom Alberts & Lisa Barmby

Script : Tom Alberts
Editing : Anne Carter
Production : Tom Alberts, Lisa Barmby


Cast : Tom Alberts, Lisa Barmby, Paul McCluskey, Adam Elliott

Introduced by the directors
Closing film
In Melbourne, at the Catabianca Club, Princess Illinaditch's cat disappears. The princess hires private detective Guy Boyman for an investigation that will take them from strange laboratories to artists' studios, from the fish market to the eccentric mystic Mrs. F. But in this adventurous pursuit, who is the Cat, who is the mouse? A parodic and jubilant homage to the American films noirs of the 1940s, from "The Big Sleep" or "Casablanca" to "The Maltese Falcon".
Lisa Barmby & Tom Alberts
Lisa and Tom are both painters. "The Big Kitty", written by Tom and co-directed with Lisa, took almost 12 years to complete and they also designed the costumes, sets, make-up and lighting. Lisa has a degree in visual arts from RMIT and has also acted in theater. She has lived in France for several years.
---