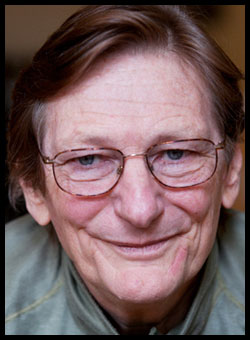 Fred Schepisi - President
Born in Melbourne in 1939, Fred Schepisi began his production career in the advertising world and served as head of the Film House for almost 20 years where he directed both commercials and documentaries. His first feature-length film was « The Devil's Playground » (1976) which won 6 AFI awards including Best Film and established his reputation as a talented director writer and producer. The success of his second film, « The Chant of Jimmie Blacksmith » (1978), selected to screen in competition in Cannes, took him to the U.S. where he directed « Barbarosa » (1981), « Iceman » (1983), « Plenty » (1985), and « Roxanne » (1987) before returning to Australia to co-write and direct « Evil Angels » (a.k.a. « A Cry in the Dark « ) (1988) with Meryl Streep and Sam Neill. Fred Schepisi also directed the screen adaptation of John Guare's play « Six Degrees of Separation » (1993), starring Stockard Channing, Donald Sutherland and Will Smith. His other film credits include « The Russia House » (1990), « Mr. Baseball » (1992), « IQ » (1994), « Last Orders » (2001) and « It Runs in the Family » (2002). In 2004, he directed and co-produced for HBO the film adaptation of the best-selling novel by Richard Russo, « Empire Falls », with Paul Newman and Ed Harris. In 2011, he directed « The Eye of the Storm », based on the novel by acclaimed author Patrick White, and starring Charlotte Rampling and Geoffrey Rush, and in 2013, « Words and Pictures », with Juliette Binoche and Clive Owen. Fred Schepisi was awarded the Order of Australia for his service to the Australian film industry as a mentor, director, producer and screenwriter
---
Sylvie Bourgeois
Sylvie Bourgeois Harel is a French novelist, short story writer and screenwriter. She is married to the filmmaker Philippe Harel. She co-wrote with Philippe Harel and Eric Assous the screenplay for Philippe Harel's film « Les Randonneurs à Saint-Tropez », which opened in France in April 2008. She also co-wrote with Philippe Harel the screenplays for « Une vie française » and « Un Homme inconsolable », adapted from novels by Jean-Paul Dubois, as well as, with Edouard Waintrop, the screenplay for the documentary « Mémoires de mai », directed by Philippe Harel, which aired on Canal+ in May 2008. She published several short stories in collective works such as « Je t'aime encore » (2004) or « Extases de femme » (2006). She is the author of numerous novels among which « L'amour libre » (2004), « En attendant que les beaux jours reviennent » (2012), « J'aime ton mari » (2014) as well as the Sophie series with « Sophie à Cannes » (2011), « Sophie au Flore » (2012) and, this November, « Sophie à Megève » which will be followed in May 2015 by « Sophie à Saint-Tropez ».
---
Eriq Ebouaney
Eriq Ebouaney was born in France, but spent most of his childhood in his parent's native country of Cameroon. Ebouaney and his family moved back to Paris when he was 14 where he finished secondary school and then went into a business school. Having had no prior experience or acting training, Ebouaney joined a theatre company, Companie La Baignoire, in the mid-90's and never looked back. He continued to work on stage with several French theatre groups, until he got his first lead in Raoul Peck's film « Lumumba ». Since then, he has worked with Gérard Depardieu, Jean Reno, Antonio Banderas, Liam Neeson, Orlando Bloom, James Frain, Julian Sands, Tahar Rahim, John Malkovich, Kevin Costner… and with such directors as Brian de Palma, Ridley Scott, Olivier Dahan, Olivier Assayas, Jean-Jacques Annaud, Park Chan Wook… His films roles include a bunch of films produced around the globe including the American films « The Transporter 3 », « Hitman », « Three days to kill », the South African drama « Cape of Good Hope », the Irish thriller « The Frontline », the Italian comedy « Bianco e Nero », the Australian drama « Disgrace », the Korean horror film « Thirst », as well as the French comedies « Case Départ » and « The Crocodile of Botswanga ». He lives in Paris.
---
Gabrielle Lazure
Gabrielle Lazure was born in the U.S.A. and grew up in Quebec. She made her debut on the big screen in 1983 in Alain Robbe-Grillet's « La Belle Captive ». But it's Philippe Labro's « La Crime » that revealed her to the public. The same year, she also played in Maurice Dugowson's « Sarah ». The thirty or so feature films in which she played include « Noyade Interdite » by Pierre Granier-Deferre (1987), « Crimson Rivers 2 : Angels of the Apocalypse » by Olivier Dahan and « Secret Agents » by Frédéric Schöndorfer in 2004, « C'est Beau Une Ville La Nuit » by Richard Bohringer and « The Passenger » by François Rotger in 2006, « Un Heureux Événement » by Rémi Bezançon (2011) and « Passer l'Hiver » by Aurélia Barbet (2013). She is also a filmmaker and directed two short films, « Reflets » (1977) and « Regarde-moi » (1994). She began acting for television in the early 80s with « Le jardinier récalcitrant » by Maurice Failevic, and was cast in numerous TV series, among which « Commissaire Valence », « Alice Nevers, le juge est une femme », « Le grand Patron », « Section de recherches », « Empreintes Criminelles » and, in 2012, « Victoire Bonnot ». Her television credits also include the TV movie « La baie d'Alger ». A versatile actress, she also played for the stage in, among other productions, « Copié/Collé » by Jean Marie Chevret and « Frères du Bled » by Christophe Botti. She is also a dancer and a singer (« Out of the Blue »)
---
Maria Pitarresi
After studying at the famous Cours Florent, Maria Pitarresi made her film debut in Jean-Luc Godard's « Nouvelle Vague ». She then made several screen appearances thanks to such prestigious filmmakers as Bertrand Blier and Jean-Jacques Beineix in their films « Merci la vie » and « IP 5 - L'Île aux pachydermes » respectively. She then met Bertrand Tavernier in what was a turning point in her career. Tavernier gave her small roles in « Capitaine Conan » and « La Fille de d'Artagnan » before entrusting her with the leading role opposite Philippe Torreton in « Ça commence aujourd'hui ». He chose her again for « Laissez-passer » and « Holy Lola ». Maria Pitarresi was also cast in « Vive la mariée… et la libération du Kurdistan » by Hiner Saleem, « Mon père » by José Giovanni and « Une journée » by Jacob Berger. On stage, she played in David Hare's « Absence de guerre », directed by Daniel Benoin. On the small screen, she played opposite Pierre Arditi in « Une villa pour deux » by Charlotte Brandström and Isild Le Besco in « Le Choix d'Élodie » by Emmanuelle Bercot. Her other television credits include the TV films « Fruits mûrs » and « Le Pain du diable », the TV series « Lyon, Police Spéciale » as well as popular shows such as « Fabien Cosma », « La Kiné », « Les Cordier, juge et flic » and « Julie Lescaut ». Recently, she played in Robert Guédiguian's new film, « Une histoire de fou ».
---
Salomé Stévenin

She has starred in films since she was a child by Philippe de Broca, Antony Cordier, René Féret, her own father Jean-François Stévenin, Roschdy Zem, Coline Serreau, Patricia Mazuy, Laetitia Masson or Patrick Grandperret (« Mischka », « Omar m'a tué », « Soleil », « Nannerl, la sœur de Mozart », « Comme un chef » …). Nominated for the best female breakthrough César award for « Douches froides » and « Comme une étoile dans la nuit » making her a household name. She then directed her short film « Baines ». She was awarded at the TV Fiction Festival in La Rochelle in 2010 for « Cigarettes et bas nylons » by Fabrice Cazeneuve. We will see her in November in « Odyssée Pacifique », a documentary series following her on her discovery of Polynesia whilst on a boat and scuba-diving. She will also star in the film « LILI ROSE » released on 22 October 2014.