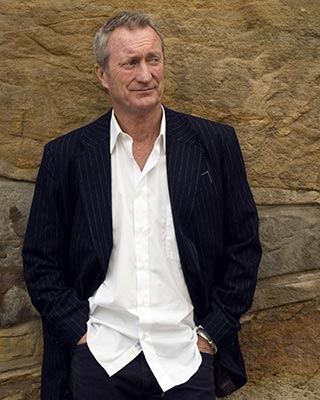 Bryan Brown - President
Born in Sydney he became not only an Australian star but also an international name with the successes of "Breaker Morant" and the TV series "A Town Like Alice" in the early eighties. Over the past twenty years a stream of well-known Australian hits and Hollywood productions followed: 'The Thorn Birds', 'Gorillas in the Mist' with Sigourney Weaver, 'FX', 'Newsfront', 'Cocktail' with Tom Cruise, 'Blood Oath' and 'Two Hands' with Heath ledger for which he won his second AFI Award for Best Supporting Actor. In 2002 he starred in the Oz Box office success 'Dirty Deeds'. In 2004 he played a major supporting role in 'Along Came Polly' as well as in 2007 in the Baz Luhrmann movie 'Australia'. He starred with Peter O'Toole, Sam Neill in 'My Talks with Dean Spanley'. In 2011 he joined the cast of 'The Good Wife' as recurring character Jack Copeland. He also played in 'An Accidental Soldier'(2013) directed by Rachel Ward. He starred in the TV series 'Old School' in 2013 with Sam Neill. For the Sydney Theatre Company, in 2014 he starred in David Williamson's 70's era classic play 'Travelling North.' In the nineties he also began producing film and television, through his company New Town Films. In 2008 he co-produced, 'Beautiful Kate' written and directed by Rachel Ward. New Town Films also produced the three short films 'Blindman's Bluff', 'The Big House', and the fifty minute drama 'Martha's New Coat' directed by Rachel Ward. Recently he worked alongside Michael Fassbender and Rachel Weisz in the Dreamworks Production of 'The Light Between Oceans' directed by Derek Cianfrance. Release date is expected to be in December 2015.
---
Philippe Caroit
Born in Paris, he is the fourth of seven children. His teenage seventies left an everlasting love of people, travel and remote places. He thus decided to study medicine to join up with the wave of « French doctors ». Moving to Montpellier enabled him to explore his affinity with theatre at the Conservatoire, to continue his studies and at the same time enjoy the sun and sea. In his sixth year of medicine he gave up the double life of « actor come doctor » to join the Théâtre du Soleil with Ariane Mouchkine. His cinema career began with Eric Rohner and television with Jean Claude Brisseau. To date, he has played in more than 100 French and foreign films for cinema and television across the globe, including Italian, British, American, Australian and Cuban. He not only speaks English and Italian fluently, but German and Spanish too. He frequently goes back to theatre and in 2010 met Robert Hossein once again for « Seznec », more than 20 years after playing the role of « Jesus » at the Palais des Sports. He comes back at the theater of Paris in autumn 2013 to play "la Société des Loisirs", play that he has adapted. In 1999 he made his first short film, « Faire-part », with Christine Murillo, Antoine Duléry and Caroline Tresca, who is also mother of his daughter, Blanche. Although a dolce far niente enthusiast, he is actually very sporty. He also devotes spare time to painting and writing. His films include « Valentin Valentin », « Rhumba », « Liberty Belle », « R.I.S. », « Les bœufs-carottes »…
---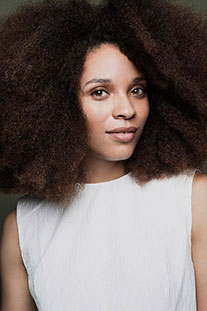 Stéfi Celma
Stéfi Celma is a young actress and singer born in Paris in 1986 of parents hailing from Martinique. Stefi's love affair with music begins at a very early age. At 4 and a half years old, she takes part in the cult TV show, « L'école des Fans ». When host Jacques Martin asks her if she wants to become a singer or an actress, her answer is a definite « no ». Life will decide otherwise. Very early on, she enrols at the music academy, where she studies musical notation and the piano, takes dancing and singing lessons, and writes her first songs. In 2007, she is part of the « Sol en cirque » musical comedy, written by Zazie, and then « Je m'voyais déjà », a show written by Laurent Ruquier with the songs of Charles Aznavour. She is subsequently spotted by a casting director and joins an acting agency. From then on, acting becomes an important part of her life. She works a lot for TV: « Le frère que je n'ai pas eu », « Un flic : calibre caraïbe », «Trop jeune pour toi » and « La maison des Rocheville ». She was also cast in « Pas très normales activités » by Maurice Barthélémy and « Les Profs » by Pierre-François Martin-Laval. This year, she played in two feature films, « Les Profs 2 » and « Antigang ». From October 13, she will be on TV in « Dix pour Cent », Cédric Klapisch's eagerly awaited series for France 2. She combined her two passions for cinema and music in the comedy film « Case départ » by Fabrice Eboué and Thomas Ngijol, for which she co-wrote the original soundtrack. In « Dix pour Cent », her character sings and plays the guitar.

(Photo : Pauline Darley)
---
Franck Finance-Madureira
Film journalist and media consultant, he has regularly worked on corporate and institutional media communication strategies. He is the publisher of Clap and clapmag.com, a magazine and a website dedicated to cinema and TV series. In 2010, he founded the Queer Palm, an « open-minded » prize awarded at the Cannes Film Festival to a film with LGBT themes.
---
Natacha Régnier
Hailing from Belgium, Natacha Régnier came to film by first acting in a short film, followed by several telemovies. En 1996, she obtained her debut feature film role in « Encore » by Pascal Bonitzer. But it was in 1998, with her portraying of Marie in Erick Zonca's « La vie rêvée des anges » (« The Dreamlife of Angels »), that she gained true recognition. For this role, she won the Best Actress Prize in Cannes (with Elodie Bouchez) as well as the César Award for Best Female Newcomer. Since, she has been building an exciting career, refusing to take the easy option and following her heart, as demonstrated by Ozon's film « Les Amants criminels » (« Criminal Lovers »). She has also played in « Demain on déménage » (2004), « Silence » (2004), « La raison du plus faible » (2006), « Boxes » (2007) « La Proie » (2011), « Le Capital » (2012), « L'écume des jours » (2013), « Falco » (2015), « Le fils de Joseph » (2015). A politically engaged actress, she supports Amnesty International and the Tara Oceans Project, and has lent her voice for spots against domestic violence and AIDS.

(Photo : Richard Schroeder)
---