2013 EDITION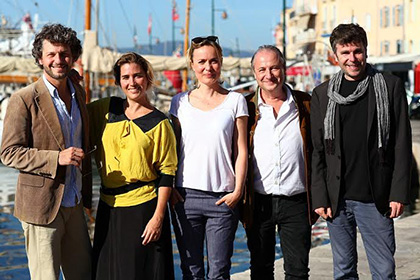 NICOLAS BAUDIN AWARD FOR BEST SHORT FILM
POLLY AND ME - Ian Darling
AUDIENCE AVARD FOR BEST FEATURE FILM
LAST DANCE - David Pulbrook
---
BEST ACTRESS
Tasma Walton - Mystery Road
BEST ACTOR
Kevin Paolo & Julian Dennison - Shopping


JURY GRAND PRIX FOR BEST FEATURE FILM
HOW TO MEET GIRLS FROM A DISTANCE - Dean Hewison
Special Mention : Mystery Road - Ivan Sen
---
FEATURE FILMS | DOCUMENTARIES | SHORT FILM | JURY | EXHIBITION
---

---
FEATURE FILMS | DOCUMENTARIES | SHORT FILMS | JURY | EXHIBITION
---

---
FEATURE FILMS | DOCUMENTARIES | SHORT FILMS | JURY | EXHIBITION
---

The Nicolas Baudin Award

Created as part of the celebrations of the bicentenary of the discovery of the Southern Lands by Captain Nicolas Baudin, the Nicolas Baudin Prize rewards an Australian or New Zealand short film. This year, it will be awarded by a jury made up of students from the Saint-Tropez region's high schools, among which the Lycée du Golfe de Saint-Tropez. One or several "chaperone(s)" - film and television industry professionals - will guide them. On the one hand, it is a fantastic opportunity for these young people to have an in-depth look at the work of aspiring directors, on the other hand, the perception of their films by a young audience is an interesting feedback for the Antipodean filmmakers themselves.

The Confrontation
Jean-Baptiste Calvani 2013 – 2' – DVD (FR)
A journalist is making a documentary on the lives of Aborigines in Australia. At a meeting between young English and a French man, a discussion takes place under the intrusive camera of the journalist.

Growing up
Damian McLindon 2013 – 6' - BR (AUS)

All kids have dreams but what happens to them? Max and Carey enjoy the endless bliss of childhood... but will any of their dreams ever come true?

The Adviser
Juhyun Pak 2012 – 11' – BR (AUS)

When an unscrupulous financial adviser screws them out of their life-savings, four pensioners take matters into their own hands and teach him a lesson.

Polly and Me
Ian Darling 2010 – 25' - BR (AUS)

A little girl's dream of a picnic in the park collides with the reality of her mother's dark world. Just because we don't see her, it doesn't mean she isn't there..

Wooden Sword
Boris Vymenets 2013 – 8' – BR (AUS)
Among the tall tower blocks of the housing commissions, a boy will begin a quest to save his mother from her captor.
Men of the Earth
Andrew Kavanagh - 2012 – 10' – BR (AUS)
Traffic is delayed at the edge of a roadwork site, but what are the council workers doing? A privileged encounter with a secret, sombre ritual of working men.
By this River
Melissa Anastasi 2013 – 14' – BR (AUS)
A young boy builds a raft to reach his mother in the land of the dead, which he believes is at the end of the river that runs alongside their property.

The Oysterman
Romaine Moreton 2012 – 15' – DCP (AUS)
A young Aboriginal oyster farmer meets an aerial artist when the circus comes to town and must decide whether he will follow in his family footsteps or follow his love.

Ellen is leaving
Michelle Savill 2013 – 16' – BR (NZ)
Ellen is leaving. Travel is the cancer of modern relationships. Ellen needs to find her boyfriend a nice leaving gift. When Hamish jokingly suggests she gets him a new girlfriend, Ellen realises it's actually the perfect idea.

Scratch
Danielle Boesenberg 2012 – 15' - DCP (AUS)
As life threatening allergies throw his family into crisis, 13 year-old Henry must make a heart-wrenching decision.

Anima
Scott Mannion - 2012 – 13' – BR (AUS)
Reality blurs as a rogue scientist struggles to keep his terminal wife alive inside a computer system.

Suspended
Damian Walshe-Howling 2012 – 17' – DCP (AUS)
Confronted by the stark reality that his father is in an intimate relationship with another woman, seven-year-old Caleb grapples with his sense of belonging and begins to inhabit a realm of frightening magical possibility.

You like it, I love it
James Vaughan 2012 – 16' - BR (AUS)
Two boys have the house to themselves. Their listlessness is interrupted by their next-door neighbour who tries to get the boys involved in his idea for a sustainable musical extravaganza for Australian primary schools.
Photocopier
Louise Alstom 2012 – 7' – DCP (AUS)
An unconventional office romance.

Plan B
Shirin Brown 2012 – 9' - BR (AUS)
Katrina is on a mission to get her kids to school and get to work on time. Will she succeed and keep her job?
Lois
Alexandra Schepisi 2011 – 8' - DCP (AUS)
When a mysterious letter tips Lois over the edge, she is driven to wild lengths to address some unfinished business.